Pimm's N°1
Chic & so british, un cocktail subtil, original, fruité et léger !
Avec la fraise ou la cerise, l'on pourra également ajouter un morceau de peau de concombre...
---
Ingrédients pour 1 cocktail
1/2 de Pimm's N°1®

1/2 de Schweppes ou Perrier, voire un Ginger Ale

1 Rondelle de citron et 1 d'orange

Fraises ou cerises à l'eau de vie en hiver...
Indications de préparation
Verser le Pimm's et le Schweppes dans le verre.

Ajouter les glaçons

Décorer d'1 fraise ou d'1 cerise à l'eau-de-vie l'hiver, d'1/2 rondelle de citron et d'orange sur le bord du verre.

Servir avec une cuillère à cocktail sur un dessous de verre.
The O.M.S recommends that women abstain during pregnancy and that if they choose to drink, they should drink no more than 1 or 2 units of alcohol once or twice a week and should not get drunk.
---
A hot English summer's day, watching Wimbledon, the cricket or simply lazing in the back garden, one essential drink must be a glass of Pimm's, an English summer drink through and through.
A Pimm's is so quick and easy to prepare as you can see in this Pimm's Recipe for Pimm's No 1 cup.
History
The drink is so popular it is often thought of as the number two English drink, tea of course being the first.
Pimm's originated in an Oyster Bar in Poultry Street, in the City of London, owned by James Pimm in 1840. Here he created the Pimm's 'house Cup' flavored with liqueurs and fruit extract.

He rapidly built up a chain of restaurants in a variety of locations, including The Old Bailey and other places "to be seen" for City businessmen of the day. James Pimm is said to have blended his famous 'No 1 Cup', on the premises and it was then sold in pints in pewter tankards. By 1859 Pimm's was on sale outside of the restaurants and in 1865 the company was sold to Frederick Sawyer and the first bottle of Pimm's is sold for 3 shillings.

The company was sold on again in 1875 to Sir Horatio Davies who in the following years expanded the sale of the drink. It could be found not only the UK, but also throughout the British Empire and the association of the drink with all things British began.
The No 1 cup is as popular today as ever; the first Pimm's Bar opened at the world famous tennis tournament, Wimbledon in 1971 and today over 80,000 pints of Pimm's and lemonade are sold every year to spectators.


What are the Pimm's Cups ?
The original Pimm's No 1 was made using gin, quinine and a secret mixture of herbs as an aid to digestion.
After the Second World War, the range was extended using other spirit bases - Scotch for No. 2 cup, No. 3 brandy, No. 4 rum, No. 5 rye and No. 6 vodka.
Only the vodka cup and brandy (now called Winter) remain in production with the original No. 1 cup still the most popular.

Recipe for Traditional Pimm's No 1
Easy - Take a jug or glass and fill it with ice, mix one part Pimm's No. 1 with 3 parts chilled lemonade, add some mint, cucumber, orange and strawberry.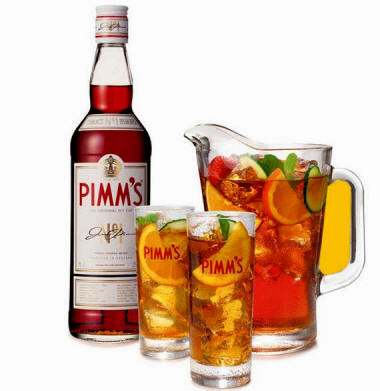 Le Pimm's

®
Le Pimm's, boisson anglaise par excellence - et non britannique, n'est pas vraiment une liqueur, mais un mélange d'extraits de fruits et de gin.
Conçue pour être diluée, cette excellente boisson douce-amère est de toutes les fêtes!Initialement servi dans une tasse (la fameuse Pimm's Cup) en tant que digestif tonique, le Pimm's Cup n° 1 fut créé en 1840 par James Pimm, barman dans un bar du quartier financier de Londres.
Cédant aux conseils de sa clientèle avisée, J. Pimm commercialisa le Pimm's N°1 en bouteille dès 1859.
Après la guerre de 1939/1945, Pimm élargie sa gamme, utilisant un certain nombre d'eaux-de-vie de base différentes. Il exista jusqu'à 6 différents types de Pimm's.
Les Pimm's de 2 à 5 ne sont plus commercialisés.
Une variante du N°3 est distribuée depuis 2005 sous le nom de Pimm's Winter Cup, qui se sert avec du jus de pomme, chaud, souvent en hiver.
Restent actuellement : le Pimm's N°1 à base de gin, le N°3 à base de brandy (Pimm's Winter Cup) et le Pimm's N°6 à base de vodka

Aujourd'hui, Pimm's est très populaire en Angleterre, notamment dans le sud du pays. Il porte souvent le nom générique de summer cup puisqu'on le déguste le plus fréquemment en été.
La marque sponsorise de nombreux évènements sociaux estivaux, tels : Wimbledon, le Royal Ascot ou encore la Régate royale d'Henley...
Cette boisson se consomme le plus souvent diluée, 1/5 de Pimm's complété de limonade, auquel il conviendra d'ajouter des fruits tels: fraises, pommes, oranges, citrons, et quelques morceaux de concombre. - 2011